TESTS PAIN THRESHOLD
TESTS PAIN TOLERANCE
TESTS TRIGGER & TENDER POINTS
UNIQUE PISTOL GRIP HANDLE
SELECTABLE UNITS: lbf / kgf / N /ozf
RECHARGEABLE 50 HOUR BATTERY
PEAK FORCE HOLD & RECALL
CONSTRUCTION
Firm pistol grip handle.
Fiberglass reinforced plastic housing.
5 digit, 0.5" LCD and 4 button keypad.
Displays: LO BAT,T, C, and PEAK.
OPERATION
Simple 4 button control and menu access.
Selectable units: lbf, kgf, N and ozf.
Tension and compression peaks held in memory.
POWER REQUIREMENTS
Continuous operation with AC adapter/charger.
Rechargeable 50 hour NiMH battery.
Auto-off conserves battery power.
"LO BAT" display warns of low battery power.
ACCESSORIES

1 cm² rubber tip, NiMH battery, AC adapter/
charger, verification hook, case, manual and
NIST Calibration Certificate.
Optional: 3" x 1 1/4" foam lined pressure pad.
ACCURACY
WEIGHT & DIMENSIONS
0.5 lb [225 g]. Shipping: 2 lb [1 kg].
5" [13 cm] H x 2 5/8" [7 cm] W x 1 3/16"
[3 cm] D
Pressure Pad - An optional accessory used alternately or in addition to the 1 cm rubber tip. The patient is active, pressing the foot,

leg or armagainst the pressure pad to evaluate pain threshold or pain tolerance.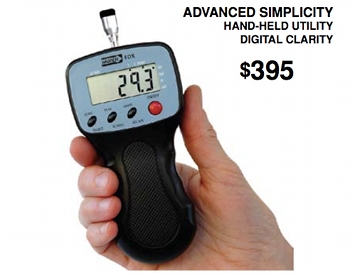 The Wagner FPX™ Algometer performs pain diagnostic testing with the advantages of a digital force gage.
Pressure algometry is a reliable measure of pain in muscle, joints, tendons, and ligaments. The FPX proves the benefits of applied medication, physiotherapy or manipulation.
As treatment progresses, the FPX quantifies improvements or setbacks. Pain threshold measurements provide unique information not obtainable by any other method. The objective measurements give reassurance to patients by confirming improvement.
Pain Threshold
The minimum pressure that induces pain in tissue trigger points. The FPX quantitatively assesses the tenderness of hypersensitive areas. The FPX 25, used for pain threshold testing, is appropriate for determining the minimum pressure that triggers pain at the point of interest.
Pain Tolerance
The point where painful pressure stimulus cannot be tolerated. The FPX assesses pain sensitivity for maximum tolerated pressure. FPX 50 is used for pain threshold and tolerance testing; with a wider range for comparative tests between a normal sensitivity control point and the area of interest.
FPX 10
10 x 0.01 lbf
160 x 0.2 ozf
5 x 0.005 kgf
50 x 0.05 N
$395*
FPX 25
25 x 0.02 lbf
400 x .5 ozf
10 x 0.01 kgf
100 x 0.1 N
$395**
FPX 50
50 x 0.05 lbf
800 x .5 ozf
25 x 0.02 kgf
250 x 0.2 N
$395***
FPX 100
100 x 0.1 lbf
1600 x .5 ozf
50 x 0.05 kgf
500 x 0.5 N
$395****
* FPX 10 - For tissue over bone and more sensitive areas.
** FPX 25 - Most popular for pain threshold trigger points.
*** FPX 50 - Popular with dual use for pain threshold and pain tolerance.
**** FPX 100 - For veterinary use on large animals, e.g., horses.
Included: 1 cm² rubber tip, NiMH battery, AC adapter/charger, verification hook, case, manual and NIST Calibration Certificate.
FD/RT
1 cm2 Flat Rubber Tip - Replacement
$25*
FD/S-1
Steel Hook/Large (100 lbf) - Replacement
$20*
FD/FP
3" x 1 1/4" Pressure pad - Optional
$35
* Included with FPX algometer.